Curriculum
Incorporate Implants into Your Practice with Confidence

McGann Postgraduate School of Dentistry has brought together worldwide leaders in the field of Implants to offer a seminar series that will pave the way towards your Master of Science Degree in Implantology. This new series will give you the robust knowledge and practical skills needed to successfully and confidently integrate Implants into your scope of practice. You will learn everything from the fundamentals of diagnosis and placement to the more advanced cases that deal with severe anatomical limitations.
Curriculum

SEMINAR 1: IMPLANT DIAGNOSIS & PLACEMENT
Dr. Luis Segura-Mori, DDS, MsD, PhD from Madrid, Spain
This seminar is critical for successful implant placement. Learn the proper foundation of implant diagnosis and placement to avoid common complications.

SEMINAR 2: BASIC RESTORATIVE CASES
Dr. Fernando M. Munguia, DDS, FACP from Upland, CA, USA
Learn practical ways to treat restorative cases by examining options for a compromised tooth, biomechanics/design of implant selection, abutment, and restorative selection.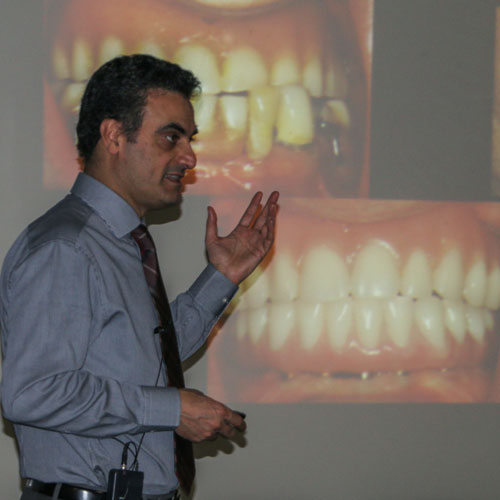 SEMINAR 3: ESTHETIC IMPLANTOLOGY
Dr. Vahik Meserkhani, DDS, AFAAID from Glendale, CA, USA
Understand all esthetic considerations before you start so your patients get the cosmetic results they desire. Utilize the ovate pontic and proper tissue management to achieve proper gingival form..

SEMINAR 4: IMPLANTS & ORTHODONTICS
Dr. Bart Polder, DDS, PhD from Holland
Unleash the powerful combination of both implants and ortho. Learn how to utilize ortho to increase bone mass and improve your implant options.

SEMINAR 5: PARTIAL & FULLY EDENTULOUS PATIENTS
Dr. Vahik Meserkhani, DDS, AFAAID from Glendale, CA, USA
Learn how to treat partially and fully edentulous patients with practical training on advanced complications and occlusions, fixed complete dentures, and over dentures.
SEMINAR 6: IMPLANTS & PERIO
Dr. Mario Flores, DDS from Alta Loma, CA, USA
Learn to graft and use soft tissue manipulations to create a good implant site with esthetically pleasing results.

SEMINAR 7: ADVANCED IMPLANTOLOGY: "BOOST YOUR SKILLS!" (SURGICALLY and THEORETICALLY)
Dr. Bart Polder, DDS, PhD from Holland
Focus on advanced implant procedures, including bone harvesting and sinus lifts to achieve superior results. Learn to manage anatomical limitations and prevent damage to the mental foramen.
---